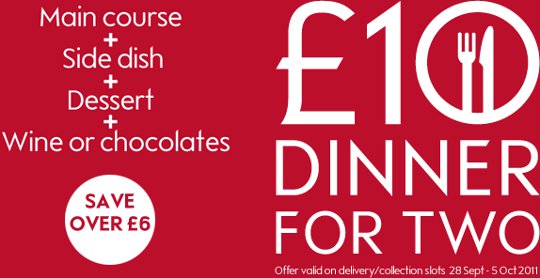 If the thought of sitting inside cooking dinner rather than enjoying the splendour of this weekend's predicted beautiful weather simply isn't for you, or you're keen on an easy dinner, then the dinner for two from Waitrose might be a winning idea.
Nicster08 has done all the hard work on this one for me, (thanks for that!) so here's a list of what's on the menu:
MAINS
Bigham's Thai green chicken curry 600g
Charlie Bighams cannelloni spin 660g
Charlie Bigham's gourmet lasagne beef & pork ragu 690g
Waitrose cottage pie 700g
Menu from Waitrose mains for 2 lamb moussaka 700g
Waitrose 2 British beef fillet steak haché 340g
Waitrose Easy salmon en croute with lemon & dill 370g
Waitrose Easy chicken breast joint with lemon stuffing 500g
Waitrose Pizza puglia 571g
SIDES
Waitrose Thai fragrant rice 350g
Menu from Waitrose sides for 2 potato rösti 270g
Waitrose rosemary & garlic roast potatoes 400g
Waitrose Greek side salad 150g
Waitrose caesar salad 250g
Waitrose ready to roast british vegetables 550g
Baby carrots & fine beans 250g
Waitrose red onion & goat's cheese flatbread 270g
DESSERTS
Gü soufflés hot chocolate 2x65g
Seriously lemony lemon possets 2x100g
Gü choc & vanilla cheesecakes 2x90g
Frü zesty lemon cheesecakes 2x90g
Gü After dark key lime pies 2x85g
Seriously smooth raspberry pannacotta 2x100g
Waitrose Pineapple,kiwi,mango,blueberry 330g
WINES & CHOCOLATES
Saluti Rosso 75cl
Saluti Bianco 75cl
Butlers chocolate selection 185g
I'm sure some chicken breast or pizza with a size of salad wouldn't mind not being served piping hot, so you can even take it to your local green space for a late summer/early autumn picnic.  Bliss.  Double bliss if there's no dishes.