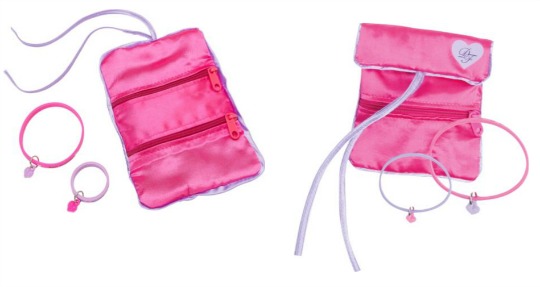 Previously been on sale for £6.99 but now just 99p.
Looks like a nice little gift for 99p. It's part of the DesignaFriend range but will fit any doll around that size (46cm) Consists of two matching bracelets, one for your child and one for their doll and they wear them as a symbol of friendship-how cute! When they're not being worn, they can be stored in the pink satin jewellery roll that's part of the set.
The reviews on Argos are pretty positive, one felt that it was overpriced and was slightly disappointed but I'm guessing they may have paid more than the current 99p price tag. They did comment that it was beautifully packaged though, so may make a nice little gift or, dare I say stocking filler?
I've tried a few postcodes and looks like there's decent stock levels for this for free store collection. You can have it delivered but that would cost an additional £3.95.
Know any little girls that would love this?