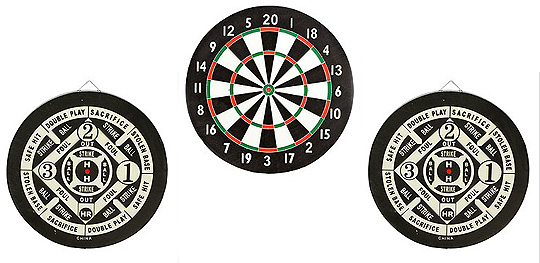 Tesco are selling this beginners dartboard, with six darts, for £5.25 instead of £7.96.
Let's. Play. D-A-R-T-S!!!  I stunned my husband the other day when I said, in all honesty, "OOOH YES!  Sounds GREAT! I love watching darts!" in response to his, not at all serious, suggestion to watch whichever darts championship was showing on one of the sports channels.
If you knew me 'in the real' you'd reasonably deduce that I really don't seem the type to get over excited by treble tops and double sevens to win, but watching darts  takes me back to Saturday afternoons, spent at my Nan's, watching the likes of Jockey Wilson, Eric Bristow etc al on TV - I loved watching Bullseye (IIIIIIN one!) on Sunday afternoons too!
It's not quite the same now though - these modern darts players don't throw their arrows with one hand, whilst deftly holding a pint of beer and a cigarette in the other - that's proper darts skill right there.
For all my darts viewing, I'm absolutely rubbish when it comes to throwing darts myself - by far the safest place to stand, when I'm at the oche is actually in front of the board; I kid you not!
Anyway, enough of all that waffle!  Your dartboard, as I've said, comes with six darts, it has a hook to hang it up by and you can turn it over to play baseball darts - now I have no clue what baseball darts is, I've never heard of it, but I'm sure there are rules of play for it in the box!
Click and collection of your dartboard and darts is, by far, the most cost effective option as standard home delivery will cost you an additional £3.
Thanks to hmn1990 at HUKD