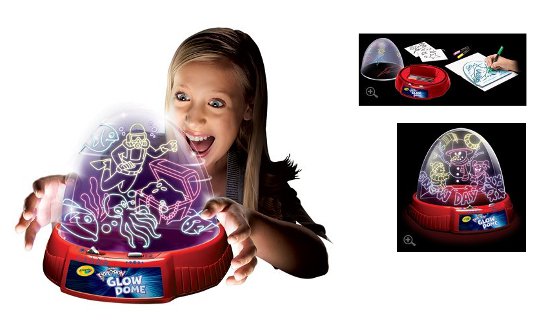 There's 60% off the Crayola Colour Explosion Glow Dome at Amazon, reducing the price from £24.99 to £10.
This rather interesting looking gadget is a drawing board, of sorts. It comes with six brightly coloured markers and two starter scenes to trace from and children either trace or draw freehand onto the plastic dome and the glow panel inside.
Once finished, children can turn out the lights in the room, and control the lights, speed, and rotation of their creations on the base of the dome. With a push of the spin-action button, the built-in motor rotates the dome at three separate speeds: slow, medium, or fast. Move the slider on the light feature to illuminate either the inner panel, the outer dome, both or a mixture. A built-in motor rotates the dome at different speeds which creates the illusion of animation with flashing lights.
The two drawing surfaces wipe clean with a little water and cloth or paper towel so you can create scene after scene. When finished, children can put the markers away in two compartments on the glow base, making sure they don't get lost.
Most of the reviews on this are pretty positive, and for £10 it looks like a nice way to explore colour and movement with children.