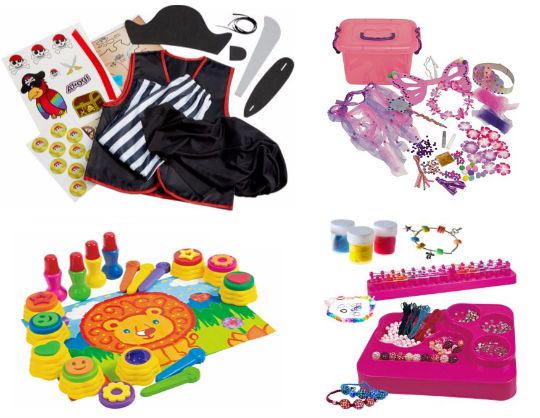 The school holidays are far from over in some parts of the UK, and if you have run out of activities for the children then these craft sets and activity sets at Argos should help. There are lots of Chad Valley sets that are reduced down in price, mainly from £9.99 to £3.99, though there are even some from £2.49 as well. There's a really good mix of activities and things to make and do, and when you get everything you need in a kit plus the instructions it certainly makes it easier than trawling around shops to get all the bits and bobs you need for a project.
Here are the ones that I found:
I really like the dressing up ones like the pirate and fairy, as they could come in really handy for all those fancy dress days at school, and World Book Day, as well as keeping the children occupied and happy. I might give the 10,000 sticker book a miss though - my children made enough mess with the stickers in the CBeebies Magazine just now, so I dread to think what they could achieve with thousands of the things!
Stock availability varies with different items, with newly reduced craft sets being in stock just about everywhere, and others that have been on clearance for a while are a lot more hit and miss. Reserve and collect from store is free, home delivery charges are from £3.95.