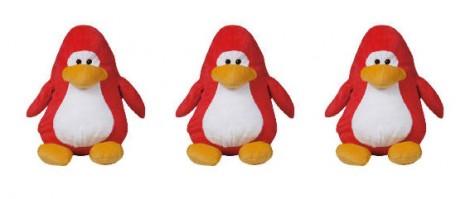 Tesco are selling this Club Penguin soft toy for £5.00 instead of the usual £20.
I don't know much about Club Penguin, he managed to pass me by and now my youngest is just into Star Wars, Bakugan, Ben 10 et al, but I DO know that when these Club Penguin soft toys go on sale, they go out of stock pretty fast.
What can I tell you about this Club Penguin soft toy?
Not massive amounts as he doesn't do anything...APART from being a 2 in 1 soft toy and can turn into a Club Penguin Puffle!
So now I'm really in the dark, what on e a r t h is a Puffle?? If I had time I'd consult my good friend Google but I've got a lot to do today so if any of you good folk feel inclined to emlighten me then go ahead.
I'm assuming this can only be a good thing (but then a few weeks ago I assumed Lotso-Huggin-Bear from Toy Story 3 was cute and cuddly, so who knows!?) and that whether this Club Penguin soft toy is in normal Club Penguin or Puffle mode that kids will LOVE him.
Thanks to sooey76 at HUKD