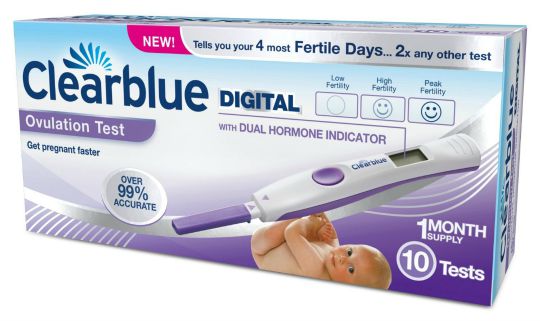 Trying for a baby is easy peasy for some but can be a really difficult and stressful time for others. If you have been trying for a little while, it's likely that you are already using ovulation tests, or perhaps your GP has recommended you do. They don't come cheap, especially for Clearblue Digital Ovulation Tests. A pack of seven will set you back £15.99 from Boots.com. Thankfully for those of you trying to conceive, Amazon are selling the TEN pack for just £10.
The Clearblue Digital Ovulation Tests 10 Pack is marketed as a one month supply but if you are frantically trying for a baby you may be going through more tests than that.
You may find other ovulation tests that are cheaper, but Clearblue say their tests 'identify your four best days to get pregnant, two times more than any other test.', plus they use a simple smiley system to clearly point out your fertile days. They also claim that the tests can detect extra fertile days that no other ovulation test can. Which means you have extra opportunities to get pregnant.
Best of luck to any of you trying for a baby. It can be so stressful and if you have any concerns about getting pregnant, then you should speak to a health professional for advice.