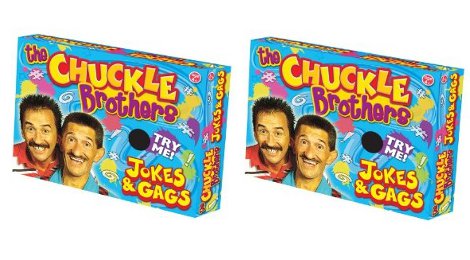 Amazon have done their terrible price switching thing again today, and the Chuckle Brothers Brilliant Box of Gags has gone from  an RRP of £9.99 to a brilliant £2.98 and is now back at £6.98 – which is still 30% off the RRP.
Reviews for this product are relatively underwhelming, unless you're a Chuckle Brothers fan, in which case, apparently, you'll like it.
Aimed a pre-schoolers, the Chuckle Brothers Brilliant Box of Gags is a compendium of tricks and jokes to be played on those around you. There are six props, including an electronic sound box with famous Chuckle Brothers sayings, and a trick squirting camera.
The box contains:
1 x Nail through the head
1 x Water squirt camera
1 x Pencil through finger
1 x Whoopee cushion
1 x Snap gum
1 x Funny glasses
1 x Chuckle Brothers electronic voice box with 4 sounds
So, if you can bare to be the victim of the same prank over and over, this is a fun, cheap gift for your toddler.
Thanks to wishihadadonkey at HUKD