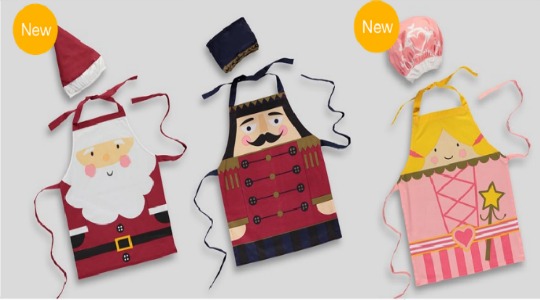 We are always on the lookout for new, cool Christmas bargains at this time of year and today we have found a right cracker (pardon the pun). Matalan have such an amazing selection of Christmas goodies this year and yesterday we showed you the Christmas Advent Duvet Cover. Today, we present to you these Christmas Apron and Hat Sets. They are just £5 each and come in a choice of three different designs: Fairy, Nutcracker and Santa.
These festive fun Christmas Apron and Hat Sets are for children and are made from 100% cotton. They are absolutely adorable to look at and are a must have for little joyful bakers/cooks.
They would make great Christmas presents but also as a special Advent gift that can be used when baking festive treats.
The Nutcracker one states that it's available soon. However, it is available to order and is in stock. I had to order one to make sure of course.
You can Click and Collect the Christmas Fairy/Nutcracker/Santa Apron for FREE from a Matalan store near you or pay £3.99 to have it delivered to your front door.