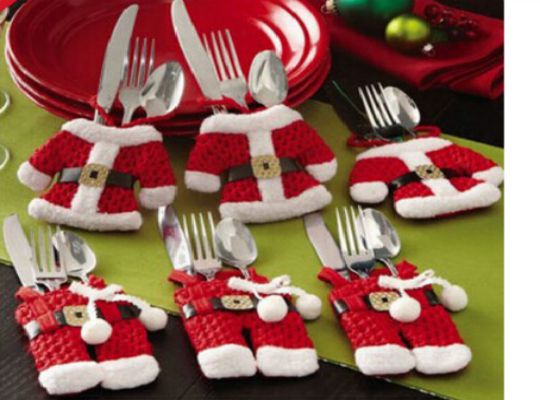 Call me sad, but dressing the Christmas Dining Table is one of my favourite festive tasks. You get so much joy out of seeing everyone sat around it enjoying all the novelty items. We have found these cracking Christmas Santa/Snowman Cutlery Holders sold by eBay seller: happy_season. They start from just £2.49 for two and that includes FREE delivery!
You get to choose between Santa's Pants and Tops or Snowmen. Both are adorable and will set of any dining table at Christmas time. The kids will absolutely adore these and I think the adults will too.
The Santa ones look like they are knitted by the photo and the snowmen could be felt, however I am just guessing from the photos. Whatever they are made from, they are a bargain and a nice novelty item for Christmas time.
The packs of two are just £2.49 for either choice. The four packs are currently out of stock but are worth keeping an eye on in case they come available soon. You could always buy in multiples of two, as the delivery is FREE no matter how many you buy.