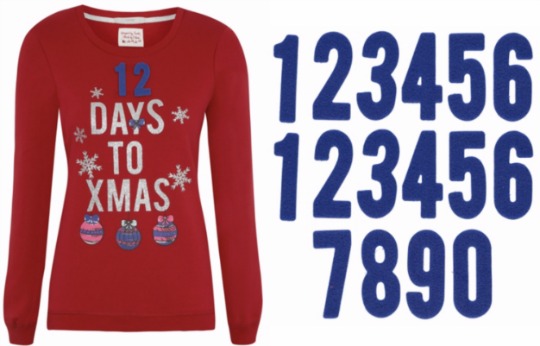 We do love a novelty Christmas Jumper. The thing is most of the really cool ones are for the kids. What about us Mums that like a bit of festive fun? Asda George have us covered. They are selling the Christmas Countdown Jumper for the reasonable price of £12. That's right, you can count your way down the days until the main event. The day when you get to sit with a Baileys in one hand and a box-full of Matchmakers in your mouth.
The Christmas Countdown Jumper comes with numbers, so that you can change them as the days decrease. These are easy to pull on and off, but should stay put thanks to their Velcro fastening.
This Jumper comes in sizes 8 through to 24, and looks like great fun for those Christmas lovers.
We aren't suggesting for one minute that you wear this on all twenty-four days of Advent, but it's a bit of fun to wear on and off throughout the festive season.
You can Click and Collect the Christmas Countdown Jumper for FREE from an Asda store near you or pay £2.95 to have it delivered to your front door.
Check out more of the Novelty Christmas Jumpers here.