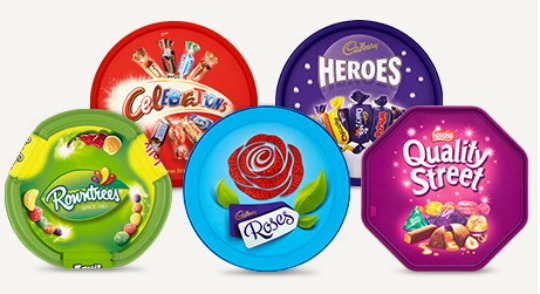 I don't know how this one passed me by as I am normally all over the best chocolate deals. What can I say, it's an addiction. Anyway, if you need to stock up on those 'sharing' tubs of chocolates and sweets for Christmas then the best buy right now is these ones at Tesco.
For £4 you can choose from a selection of six of the big tins and tubs of goodies, and this offer has already been on for a few days so you have until Tuesday to grab them at this price. The offer is both online and on stores subject to availability, and these are the ones on offer:
Celebrations Tub 750G
Quality Street Tub 780G
Cadbury Heroes Tub 695G
Cadbury Roses Tub 729G
Swizzels Sweet Shop Favourites Tin 750g
Rowntrees Tub 750G
There are also smaller sharing pouches and boxes for £2 each including Heroes, Roses, Liquorice Allsorts and Jelly Babies, just in case you need a few smaller gifts. These are fab for emergency gifts to have in the cupboard or when you pop out visiting friends and family nearer Christmas time and don't want to go empty handed.
They do make me laugh calling them "sharing" tubs though. As if.
And I've worked out how this offer passed me by... I over bought for Halloween so we have a LOT of treats and sweets in the house still. What a shame... ;)