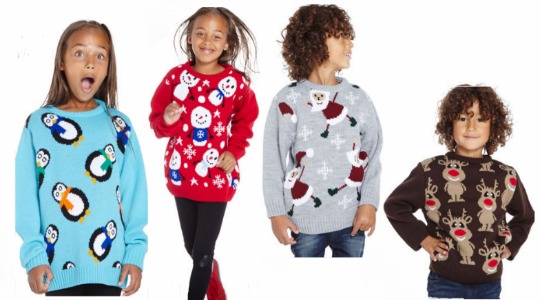 Every year we get our sons matching Christmas Jumpers and get their photos taken. It's probably a form of cruelty but they look so adorable. The thing is, Christmas Jumpers are a novelty and since children grow so fast, you end up having to buy a new one every year. Nobody wants to spend a fortune when it's only used a handful of times. Reputable eBay Seller guaranteed4less are selling these Children's Knitted Christmas Jumpers for just £7.99 with FREE delivery.
There are FOUR different designs to choose from: Penguin, Reindeer, Santa and Snowman. They look very festive and for the money, they look like great value.
Sizes available in all designs are 7-8, 8-9, 9-10 and 10-11 years old.
In the description guaranteed4less imply that these are ex-High Street store items and are from a high quality retailer. Whether they are or not we can't say, but at under £8 delivered, it doesn't really matter.
You can return your Christmas Jumper should it not fit, as long as it's within seven days.
Like these? Check this link for loads more Novelty Christmas Jumpers
Do you buy the kids Christmas Jumpers every year? What do you do with the old ones? Let us know!