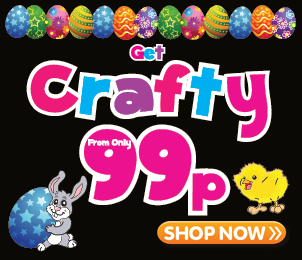 Half term is almost upon us, and if this weather doesn't improve soon soon, it's going to be a long cold wet two weeks of entertaining the children at home.  The Works has a sale on children's arts and crafts bits and bobs, and they're selling it all starting at 99p.
We always have hope of a change in the weather, but if that doesn't come through, and today being Spring Equinox, my hope is already weak at the knees, there's always arts and crafts.
There are loads of options for you to choose from too, including:
Standard delivery is £2.99 and orders over £25 come with free shipping.