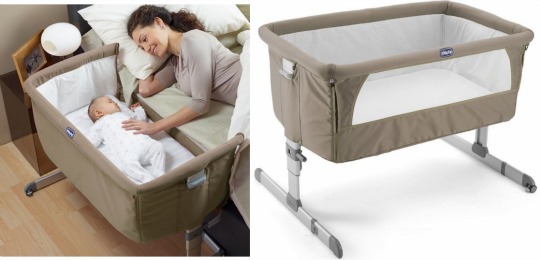 The Chicco Next2Me Side-Sleeping Crib is the best selling co-sleeping cot, and it's currently got £20 off at Precious Little One, bringing the price down to £129.99, and this also includes free UK delivery.
The idea of this Next2Me crib is that it gives the benefits related to close-sleeping, whilst avoiding the many reported dangers of putting newborns and babies in bed with parents. With this crib your child can safely sleep while you can rest next to them, or cuddle and breastfeed comfortably.
There is a fourth side to the crib which can be raised so that the baby is secure when not placed next to the parents bedside, and it has coasters fitted to the legs so that the crib can be easily moved around should you need to.
You can fold in the support legs to ensure it gets close to the bed, and secure the feet so that it doesn't move, plus the base height can be adjusted to match the bed height as well.
The crib is lightweight and can fold down into it's own carry bag meaning that it doubles as a travel cot as well. Because of the portable nature of the crib it is also said to be easier to help the child move into their own bedroom, as you can progressively move the cot further away.
The reviews of this Chicco Side Sleeping Crib are excellent, and it's currently the best selling crib of it's kind. To get £20 off the selling price is a great saving.
We would love to know if you have used a side-sleeping crib or cot like this one, and whether you think it was beneficial. Let us know your thoughts in the comments below or over on our Facebook page.
Thanks to nathblade