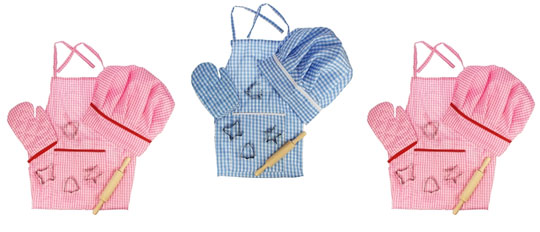 If you have a budding chef in your family then you might want to take a look at these chef's sets over at Play; the pink one is £5.89 and the blue £6.49, the usual price for them is £8.99.
Both my teenagers are pretty accomplished in the kitchen - if they had to leave home today and fend for themselves, they'd happily whip up a mean spaghetti bolognese, or chicken and gammon in a creamy white sauce; no student diet of beans on toast for them!
They used to love messing around with me in the kitchen when they were little and both would have felt very 'Gary Rhodes' if they'd had a little pink or blue chef's set to wear.
Made from either pink or blue gingham, these chef's sets comprise an apron, an oven glove and a proper chef's hat (my two would have gone mad for the hats!), also included are four cookie cutters and a rolling pin.
There's no delivery to pay when you order from Play so £5.89 or £6.49 is going to be your total outlay for your little chef's set, depending whether you need pink or blue.
Thanks to wishihadadonkey at HUKD