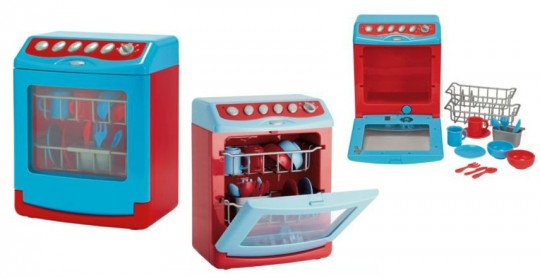 Argos are selling the Chad Valley My Play Dishwasher for slightly less than half price reduced from £12.99, now selling at £6.99.
A great addition to any kitchen, real or imagined, is a dishwasher. It has reduced the number of arguments and the number of dirty dishes in the sink in our house, and I'm not sure I could ever live in a house without a dishwasher again! I'm not sure that's the lesson I want to teach my daughter, but it's a sacrifice I'm willing to make!
This Chad Valley My Play Dishwasher is said to encourage role play and imagination. It is red and blue and has a door window with "real rinsing water" where dishes can be washed in four different positions.  (Apparently the water just goes in the door and sloshes around so it looks as if the crockery is being washed and dried but they don't actually get wet – bonus: I was imagining the clean up!)
You can pull out both trays, just like a real dishwasher and place your kitchen essentials inside.
Reviewers were generally happy with the My Play Dishwasher, and gave it a 4.1 star rating. For the record, this is pretty tiny - smaller than an A4 page and requires 3AA batteries.
Thanks Babsy Baby at HUKD