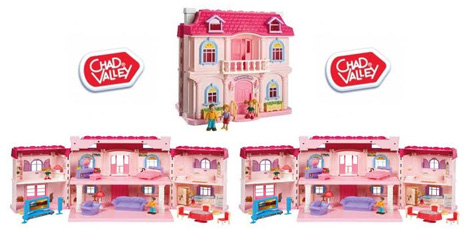 I was never a dolls house sort of girl, but if yours is then this Chad Valley Dolls House might be something they'd like - it's on sale for half price, £12.49 instead of 24.99.
This Chad Valley Dream Dolls House is described as being 'giant' - I'm always a little wary of such descriptive terms as it all depends on your point of view; one man's 'giant' is another man's 'I thought it would be bigger!'
Here are the dimensions so you can make up your own mind: Size (H)21.6, (W)34.6, (D)36.2cm
Toys like this Chad Valley Dolls House are great for encouraging imaginative play. This one comes complete with mum, dad and one child - much more sensible than having two or three, no sibling arguements to contend with! - an there are all the usual bits and pieces that make a home for you to move around and organise.
It also has a working doorbell and a barking dog sound - I'm not sure where the dog is, perhaps he's just a virtual dog to scare off potential burglars - and you'll need two AA batteries for this which aren't included.
If your little girl is over three years old then the Chad Valley Dolls House is suitable for her and it's available for free in-store collection or home delivery for £5.95.
Other people who've bought it are very happy with it...
"Fantastic doll's house - my 4yr old wowed when we put it all together and managed to find the battery compartment to get the doorbell working. Well worth the value price and well recommended."
...is just one such example of a happy Chad Valley Dolls House owner.
Thanks to pink-ka at HUKD