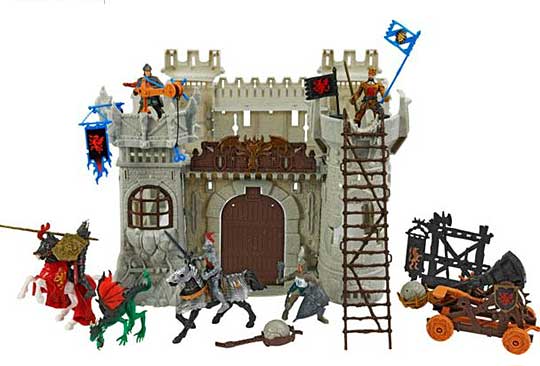 Oooooh!! I wrote about this Chad Valley Castle and Knights play set back in October - it was £19.99 then, it's £13.99 now and its original price has always been £39.99 *grin*
If you've got a young wannabe Merlin or King Arthur in your family then I think it's safe to assume they'd be rather happy with this Chad Valley Castle and Knights play set, don't you?
The castle would, of course, be Camelot (well the castle within the walls of Camelot - did the castle have a name of its own...?) and the knights, who would be fearless Knights of the Round Table, would engage in epic medieval battles, of which tales would be told for centuries to come.  Let no-one say I can't do imaginative play!
The Chad Valley Knight's Castle play set includes:
A 29-inch medieval castle
Two battle horses
Five knight action figures - one of them would obviously be Arthur (sorry, King Arthur)
A catapult with two rocks
Weapons and shields
A weapon stand, for the aforementioned weapons; and
A dragon - no self respecting medieval castle with knights can be without a dragon!
Reviews for the Chad Valley Castle and Knights play set are great: here's a couple for you (three, actually), just in case you're sitting on the moat (well you can't protect your castle with a fence,can you!) not sure whether to buy, or not to buy...
"Best toy I ever bought !!!"
"Bought this for my grandson's 7th birthday. He didn't stop playing with it all day! The knights and horses are very good quality, very robust and actually stand up on their own!
Excellent value for money."
"My grandson is delighted with this castle and so am I. Great value for money. Nice and sturdy, a decent size and the figures are really lovely. A really lovely toy."
If your local Argos stores have stock then you can arrange to collect your Chad Valley Castle and Knights play se for free, or you can book standard home delivery for an extra £3.95.
Thanks to Beechwoodsmiths at HUKD