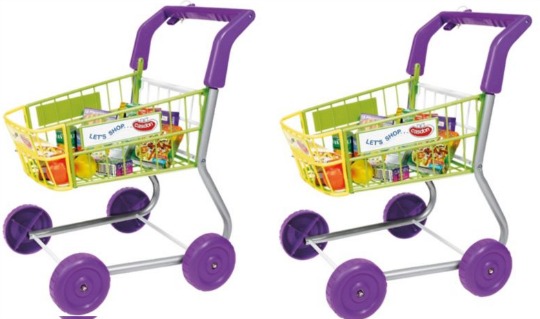 Don't you just love those little trolleys that you get in Ikea and some supermarkets? Kids love them and you can have one at home with this Casdon Shopping Trolley with play food. It is now only £9.97 from Tesco Direct. This was £14.97, so you are getting a cool five pounds off. It is included in Clubcard Boost, so you could make it an even bigger bargain if you have enough Clubcard Points.
The Casdon Shopping Trolley with play food looks like great fun. It's suitable for children aged three to five and would go great with a toy shop or supermarket. This looks just like the real deal but I don't think it'll be made of metal, it's more likely to be made from plastic.
The play food that is included has a mixture of branded and non branded foods. How cute is it when you see your little one carting around with a mini box of fake Bird's Eye Fish Fingers? Very!
The Casdon Shopping Trolley and play food can be collected for FREE from your local Tesco store, or you can pay £3 to have it delivered to your home.