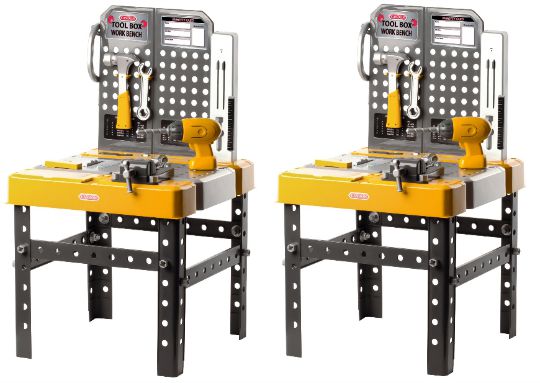 I don't know about you but I have flirted with the idea of starting my Christmas shopping soon. It would certainly be wise, since I have four boys to buy for. It's things like this Casdon 60-Piece Tool Box Workbench that are so cheap, that they are most definitely worth tucking away for the next four months. Very have reduced it to just £15, which means it's less than at Argos, who sell it for £19.99 and Tesco Direct at £22.99.
Roleplay toys are always a safe choice for little ones as they enjoy acting as grown ups. Don't be put off buying this Casdon Toolbox Workbench for a girl as it is completely unisex and they will love it as much as a boy would.
The Casdon 60-Piece Tool Box Workbench comes with a Drill, Vice, Table Saw, Hammer, Screwdriver and much more. This is a lot of toy for £15 and is a great alternative to a play kitchen, not to mention a more affordable option.
You can use Collect+ to pick up the Casdon 60-Piece Tool Box Workbench for FREE from a local shop or pay £3.95 to have it delivered to your home.