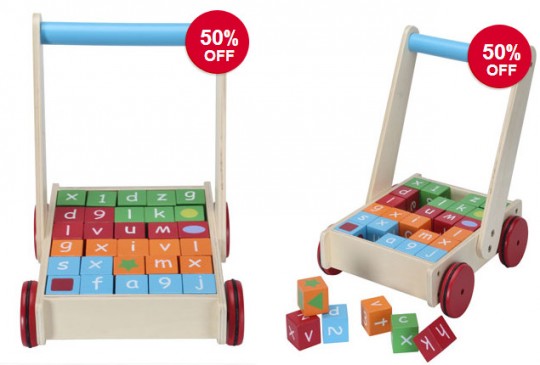 Kiddicare has 50% off the Buzzing Brains Wooden Baby Walker, filled with blocks. It's normally £22, but is now selling for £11, which is a great, great price for a wooden trolley walker, and more so for one with blocks!
This Buzzing Brains walker is kind of like a two in one toy as it's both a walker and a set of wooden blocks. It's very colourful which should appeal to little ones, and reaches 34 cm high. They say it's suitable from 12 months up, but I wonder if that applies if you have an early walker.  Mine were 8 months and 10 months when they started walking and I was on the lookout for one of these, but found them all very expensive! I'm quite sad I didn't find this offer then!
While most of the reviews on it are pretty great - mentioning that it's colourful and good construction - there are some that complain that it's too low, making toddlers lean over it and tip it up, falling and knocking their heads. It's perhaps worth either putting something heavier in the cart while they're learning to walk, or worth waiting till they are stable on their feet and can just use it as a trolley.