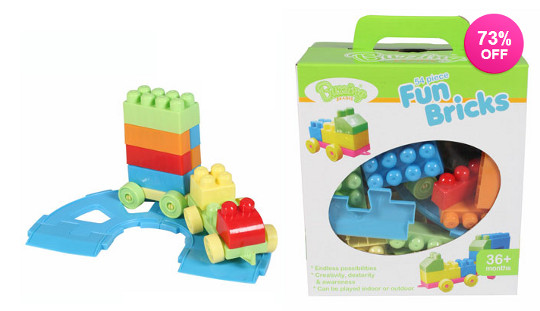 Kiddicare has a sale on The Buzzing Brains Fun Bricks, which is reduced from £14.99 to £3.99.
The Buzzing Brains Fun Bricks look quite similar in concept to LEGO, but with 54 colourful building Bricks at £3.99, they are considerably cheaper. The bricks are larger though,making them the perfect toy for your little one who is just learning how to create with their own two hands. Brick play is great for children, giving them the opportunity to stimulate their imagination and learning skills while encouraging discovery, fine motor skills and open-ended play.
We have a rather huge LEGO collection, but we also have non-LEGO bricks, which for us are perfect for going on holiday with, or using when we're out and about. They keep little people entertained, without the risk of getting lost, which suits me.
These are suited for children over 3 years of age.
Thanks to AnnaMak at HUKD