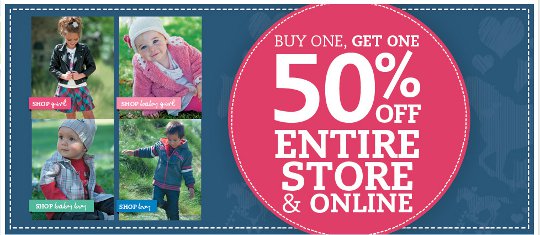 There's a lovely sale on at Pumpkin Patch at the moment, both online and in store. You can buy one item and get one half price and there's also a free delivery code.
Hedge your bets with two offers from Pumpkin Patch
Discount: Free delivery and 15% off
Valid on: Non 50% off items
Expires: 24 December 2011
Promotion Code: UKPRSC
Okay, so there are two offers here and they don't exactly work in conjunction but they can help each other out, so to speak.
Say you buy four items at £5 each you will receive £2.50 off two of the items – I bought four tops for my daughter, and paid £15 for them. Apply the code UKPRSC and your delivery is also free.
When I added another item – a winter blouse for £16 – it threw my basket off balance, so instead of giving me 50% off the second item, it gave me 15% off everything in the basket as well as free delivery.
So, if I hadn't used the promotion code, the total would have been £35.95 including postage, but as it auto adjusted my basket, I now pay £30.60 for everything.
In other words, it's worth checking to see what your total is before applying the code, just to be sure, but with £4.95 for shipping, that's probably enough to tip the balance.
Thanks to Naz76 at HUKD