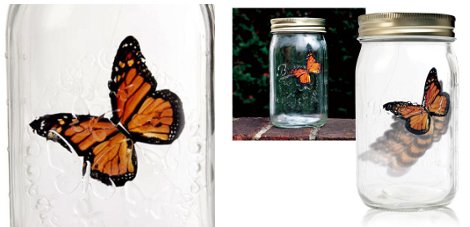 This butterfly in a jar is available at IWOOT for £18.94, or £10.44 including delivery, using the discount code below.
Flutter off to IWOOT for the butterfly in the bottle
Discount Code:O2TUS5PP
Discount: £8.50 off
Expires: Unknown
I'm totally in two minds over the whole 'butterfly in a jar' concept! I think it's absolutely beautiful, and really love it, but on the other hand, would worry about how many real butterflies will end up dying in jars because little Susie wants one too!
The imitation butterfly is gorgeous though. You tap the top of the jar and the butterfly will flutter around inside the jar in an apparently totally life like manner.
It's easier than chasing butterflies, definitely not as cruel as capturing a butterfly and is surprisingly realistic in appearance.
The electronics involved require 3xAAA batteries.
As a side note: Grabitnow.comalso have it on offer at £14.65, with free delivery, until midnight tonight but they also have three other 'species' of butterfly that IWOOT don't have. You can also see a video clip here of how it looks in action.
Thanks to amaara2009, the gooner and avebell at HUKD