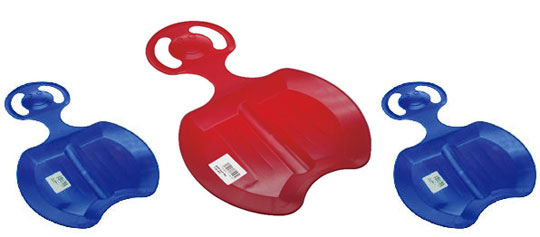 You remember back in mid-September when the weather people said we must all brace ourselves for a winter bringing snow of apocalyptic quantities and temperatures that would make the Arctic look like a tropical paradise...?
And you remember how they said it would be here by the end of October? Well it's got to the stage where I'll believe it when I see it and the sledge has been put back in the loft.
If you haven't got a sledge yet and believe the weather men got their forecast right but the month wrong, and that we're heading for winter months covered in cold white stuff, then you might want to pop over to Tesco and pick up a round bump skid sledge, for £3.97, so you can be ready and waiting when it arrives.
Personally, I'll be MORE than happy not to see any snow this year. If I want to go sledging I can pop down the M1 to the Snow Dome at Milton Keynes, grab a round sledge and have fun on their indoor snow slopes; it's much more civilised - go in, play with snow, come out, no snow.
But if it does snow then I'll grin and bear it, grab the round sledge out of the loft and indulge in some whizzing-down-hills-on-my-backside fun.
Really don't bother considering anything but free in-store collection for this round sledge, you'll pay more for that than you do for your sledge; outrageous.
Thanks to Syzable at HUKD