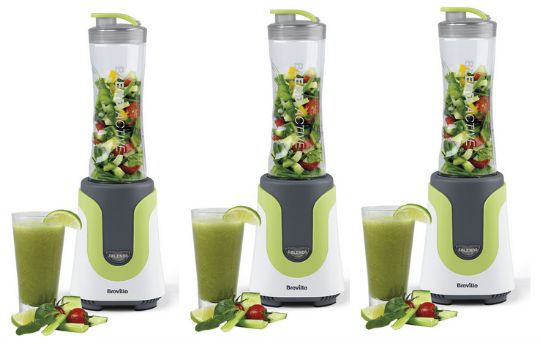 These cool little blenders from Breville can be found in many kitchens up and down the country. Why are they so popular? Ever thought of making a smoothie and had the problem of making way too much and it going to waste? Conventional blenders are much bigger and lack the convenience of the Breville Blend-Active Personal Blender. It's at the best price we have seen it for at Amazon, £18.99.
The Breville Blend-Active Personal Blender is handy if you are on diet shake programmes like Juice Plus, drink post-workout shakes, or like to get your five-a-day from a smoothie. You don't have to haul out the big smoothie maker to do the job... who wants to go to the hassle of cleaning that several times a day.
Another popular feature of this personal blender is that your blended drink doesn't need to then be decanted into a bottle as it is blitzed in a portable bottle. That's right, a 600ml BPA-free eastman tritan copolyester blender bottle that you will drink out of and rinse, ready for your next drink.
You can have the Breville Blend-Active Personal Blender delivered for FREE if you have Amazon Prime or if you top your order up to £20. Check out the Add-on items here.