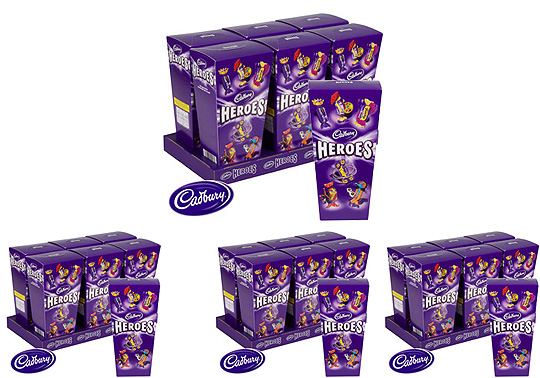 If you're looking for some Christmas chocolate deals, how about six boxes of Cadbury's Heroes for £17.94 instead of £27.54?
Boxes and tins of chocolates, in my family, definitely herald the start of Christmas. When I was little there were only two main chocolate tin choices - we always had Quality Street and my nan doggedly stuck with Cadbury's Roses.
It was quite a revelation when Cadbury's Heroes arrived on the scene; Heroes, along with Celebrations, have taken over from Quality Street and Roses (they seem rather boring in comparison now, I think) and I'm also rather partial to the relatively new Terry's Segsations tins too.
Anyway, back to the Heroes! If, like my nan (who's abandoned Roses now), you have umpteen grandchildren to buy chocolates for every Crimbo, then you should definitely take advantage of Christmas chocolate offers.
I dashed over to Tesco quickly, as they always have Christmas chocolate offers, and they're currently matching the Home Bargains price - but only until 4 December, so if you don't need as many as six boxes, go there instead.
You can only collect your six boxes of Cadbury's Heroes in-store if you're going to get them from Home Bargains - just make sure you don't eat them all on the way home!