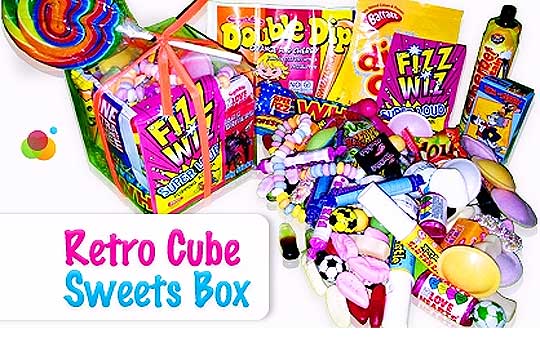 If retro things appeal to you, and you're a sweet lover, then you might want to take LyncMeUp on their offer of a box of retro sweets for £10 instead of £20.
Click HERE to take a look at the retro sweets *
I don't know what it is about retro sweets that most of us find almost impossible to resist; maybe it's the way they remind us of all the good things about when we were kids, or maybe it's just because they're awesome sweets!
I've spent far too long looking, very closely, at the above picture trying to identify all the sweets in it, I can see:
Cola bottles
Candy shrimps
A sherbet fountain (at least I think that's what they were called!)
Double Dips
A Wham bar
Chocolate footballs
Candy cigarettes (SHOCK, HORROR! We'll all be rushing out to buy real cigarettes as a direct result of pretending to smoke sweetie versions!)
Parma Violets
Love Hearts
Fruit Salad chews - wow I LOVED those things!
Jaw Breakers
Candy necklaces; and
Flying saucers - I didn't like those, you can have mine if you'd like them!
This box of retro sweets offer is valid until 23 October and would make a great present for birthdays, great for Halloween goody giveaways, great for Christmas and great 'just because'.
Delivery is going to cost you an additional £4.99 and will take approximately 10 days to arrive after you place your order.
Happy double-dipping!