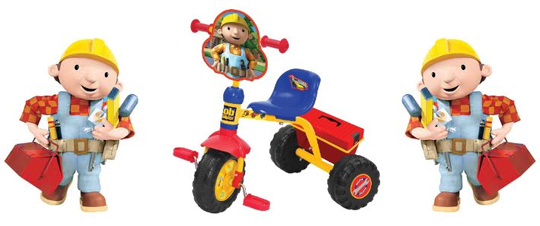 I have a rather sneaky feeling that Amazon are going to mess around with the price of this Bob the Builder trike and tool box with tools - don't ask my why, call it my 6th Amazon sense if you will, but at the moment it's £28.48 instead of £34.99.
My youngest son was a huge fan of Bob the Builder when he was little, he also loved JCBs and had a ride-on JCB digger for his birthday one year.  If this Bob the Builder trike with its tool box and tools had been an option, I think he would have been very torn between the two as that tool box makes adds that extra little something 'ordinary'.
A bit of self assembly is required - some reviewers have said this can take a while, although I don't see why as there aren't that many bits to it.  The handle bars are adjustable between 50 and 53cm and the seat height is at 30cm.
The took box sits between the back wheels and contains six plastic tools and is all suitable for little Bob the Builder fans aged two years and over.
Thanks to johndgrat at HUKD