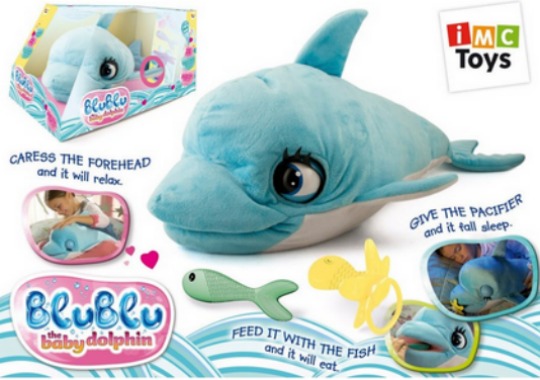 My son saw this on the adverts, and just DEMANDED that I buy him one! Read the reviews on Amazon, and you will see that there's a trend, in that Blu Blu the Dolphin toy is a MUST HAVE if your child has seen it in action on an advert.  Click the links below or the picture above and you will see that Blu Blu is at the bargain price of £29.74 at Argos and Amazon have price matched. If you want ti delivered, then order it from Amazon, where you will get FREE Super Saver delivery.
Blu Blu the Baby Dolphin toy is highly rated by customers on both Amazon and Argos, in fact he nearly scores five stars. He is an interactive toy with such an adorable face. I can see why children are so mesmerised by the adverts.
This little baby dolphin called Blu Blu is soft and plush, but needs lots of TLC from your child to keep him happy. He can be feed with the fish that is included, soothed to sleep with his dummy (also included) or by rubbing his forehead. If he gets neglected, he soon lets you know.
Toys like this really do bring out your child's nurturing side, and that's always nice to see.
You can reserve and collect Blu Blu for FREE from your local Argos store.