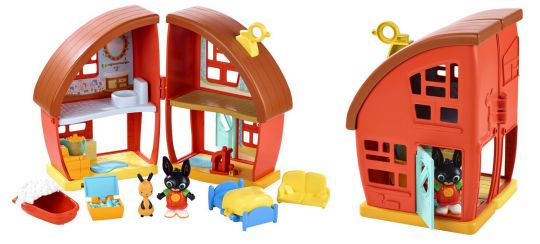 I am so happy about this offer! Bing is getting to be really popular amongst the pre-school crowd, and my toddler is no exception. The toys were released a few short weeks ago and were big sellers, and this is the first time I have seen this reduced anywhere! The Bing Home Playset has an RRP of £31.99 but Amazon have dropped the price by 40% to £19.19.
The Bing Home Playset opens out for two levels of play, and includes furniture and accessories as well as figures of Bing and Flop. There are also interactive features so that children recreate scenes from the show:
Bing's day begins in the kitchen where he and Flop can mix up a mooshy, carroty smoothie. The kitchen features an interactive spot that is just the thing little Bingsters need to recreate one of Bing's typical messy moments. When little ones press Bing down on the spot, the blender will pop up and down and they'll see Bing's reaction to the smoothie spill - his soft ears will flatten and Flop. In the living room, little ones can pretend Bing has been busy building a block tower. When they press Bing down on the rug, the tower will tumble and Bing's ears will droop down until he is picked up again.
Bing's house also features a bathroom with a big, bubbly tub and Bing's bedroom is complete with a toy box that opens and a bed with a fold-over Hoppity voosh blankie. Bing's house includes Bing with soft ears, Flop, bed, bathtub, couch and toy box.
This set is going to be on a lot of Christmas lists, so getting this one nice and early is a big win as far as I am concerned, especially with a discount and free delivery.
The lovely thing about Bing Bunny, apart from the everyday mini dramas (and Flop's parenting lessons!) is that it is not aimed specifically at boys or girls, but at all children as far as I can tell. I certainly know both boys and girls who enjoy this programme, and it's so nice to see a show with stories that preschoolers will recognise and relate to.
Yes, I'm a Bing fan, and so is my son. :)