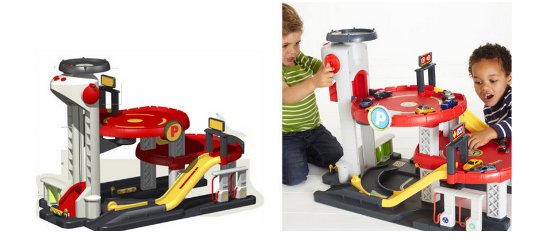 There's £20 off the Big City Garage at ELC, which they're now selling for £35. In addition they've added a free set of Super Wheels Cars when you buy the Big City Garage, with an added value of £20 – meaning you're getting something worth £75 for £35, which is not bad going.
The Big City Garage seems to be a toddler group favourite, and in each group there always seems to be a queue of toddlers keen on having a turn.
The Big City Garage is a fab mulit-storey garage, packed with fun features. Your child can, for example send a car up to the top in the car lift, drive it around and zoom down the ramps. There's a helipad for the VIPs, petrol pumps, car wash and moveable barriers.
This set connects to the Big City Carry Along City if you feel like expanding the set, and  normally you'd buy your vehicles separately, but with this offer, you'll receive the free cars, although there's no information on how many are in that set.
If you'd prefer a wooden garage, the one at Mothercare still has £25 off too.
Thanks to Drea at HUKD