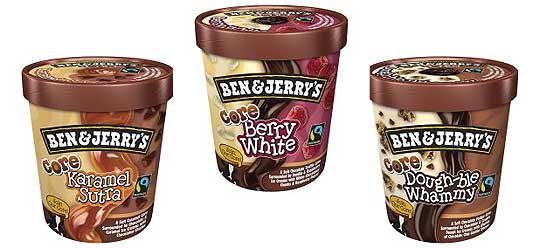 If you haven't tried the new Ben and Jerry's Core ice creams yet, you don't know what you're missing!  They are fabulous, and more than a little bit lethal for the waistline - just ignore the fact that 100 grams is 230 calories, making the entire tub (which you could very easily eat in one go) a whopping 1,150 calories.
The usual price for all Ben and Jerry's ice cream flavours, Core or otherwise, is £4.99 for a 500ml tub - Tesco are selling the three Core flavours for £3 until 15 October.
I can reliably inform you that all of these Ben and Jerry's Core ice creams are equally scrummy; I can also tell you that you're going to need cast iron will power if you intend to buy some now to stash away in the freezer for special ice cream at Christmas time!
When Ben and Jerry's released their Core flavours a couple of months ago, my daughter and I bought the three of them to try; we discussed and decided, whilst standing in the ice cream aisle, it would be remiss of us - in fact, positively irresponsible - not to be able to tell about them from personal experience, should deals for them become available.
Ben and Jerry's Core Dough-ble Whammy will appeal to everyone, I think; if you have more of a fruity ice cream personality then Core Berry White will absolutely do it for you and as for Karamel Sutra...well, that's smooth, rich and a like eating a little piece of heaven.
I haven't ventured down the ice cream aisle at my local Tesco for a while, so I can't tell you whether these Ben and Jerry's Core ice creams are being sold for £3 in-store - but past experience tells me it's more than likely.
All you have to do now is decide which flavour to try over the weekend!  If you're feeling reckless, you could always grab all three: one for tonight (it is Friday after all), one for Saturday (Saturday's are MADE for eating ice cream) and one for Sunday (you can't beat some amazing ice cream after a delicious Sunday roast!).
Happy Ben and Jerry's weekend!