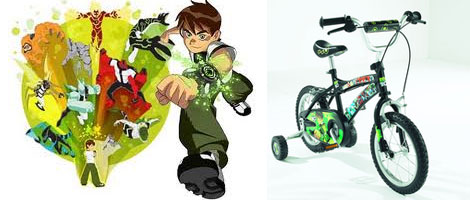 Bikes are traditional BIG Christmas pressies, if you've got a Ben 10 fan who's been dropping 'subtle' hints about having a Ben 10 bike for Christmas, then have a look at this one.
I remember getting a bike for Christmas when I was little – it had a little carry thing on the back that I used to put my tea set in and my Little Bear story book!
I remember getting a bike for Christmas when I was older – it was a Raleigh Racer and I LOVED it!
It doesn't seem to matter how cold it is on Christmas day, if you're the proud owner of a new bike you're going to RIDE it!
Nothing short of three feet of snow is going to stop you, and this year that's looking more and more likely.
This Ben 10 14" bike is the very same one that my youngest has and he has a great time chasing aliens on it.
The frame is printed with lots of his favourite aliens from Ben 10, the seat and handle bars are adjustable and it come with stabilisers which are removeable when you're youngster has perfected the art of riding their Ben 10 bike.
The rrp for this bike is £119, Bargain Crazy have reduce it to £64.99 BUT if you add this code at the checkout - WTENPER - another 10% will be knocked off and the Ben 10 bike will be yours for £58.49.
And as you've spent over £40 delivery is free too - having read the small print, the 10% discount code expires TOMORROW.
Thanks to sarafan over at HUKD