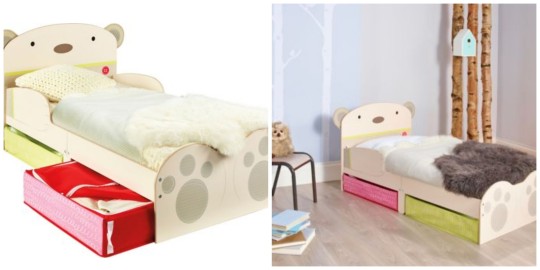 Oh, this is adorable. In fact if you're in the market for a toddler bed - or even if you're even vaguely likely to need one in the mid-to-long-term future, this is surely a must-have.
Normally £119.99, the price has been slashed to just £49.99. It's surely the perfect bed for making a smooth transition from a cot to a toddler bed, and the bear's 'arms' act as extra safe features to stop little ones from tumbling out of bed.
And how's this for a bonus featured - there are handy 30 litre storage drawers beneath the bed for squirrelling away toddler essentials, be that clothes or toys or even spare bedding.
The frame is made from MDF and it's purportedly pretty easy to build.
Delivery costs from £3.95 from Argos, or you can order one online using the link above but opt to collect it from your local branch of Argos.
With thanks to cdnkt6 @HUKD.