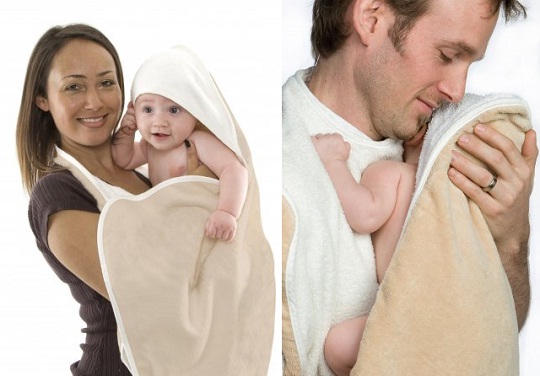 Cuddledry have an exclusive 20% off everything in their range for PlayPennies readers.
Cuddle dry on the beach, the bath or the changing table
Discount:  20%
Expires: 30 April 2012
Discount Code: PENNIES20
If you've ever bathed a newborn baby, and struggled to juggle them and a tiny towel, you'll appreciate just how stressful it can be! With the award-winning baby apron towel from Cuddledry though, baby bath times can be safe and snuggly.
Worn around your neck like an apron, the Cuddledry apron towel not only keeps you dry, but also means you have two hands free to be able to hold, wash and lift your baby.
Cuddledry's double layer of signature blend pure cotton and natural bamboo makes their towels silky soft and extra absorbent, and ensures the quality lasts after every wash, even without using fabric softener.
The bamboo fibre is naturally antibacterial and organic, so does not irritate sensitive baby skin – ideal for newborns or eczema.
Cuddledry also have an SPF50 poncho towel, which is perfect for time spent on the beach or by the pool this summer.