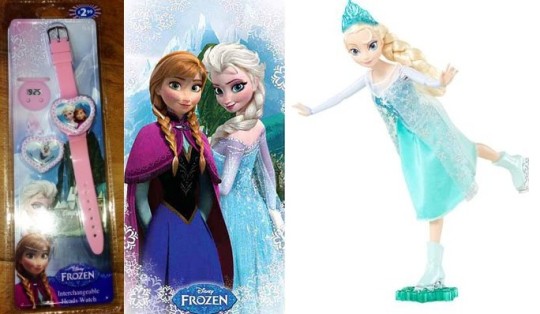 Yesterday, we brought you a compilation on online Frozen items, and today we bring you instore  bargains. Some deals are only available in stores like B&M or Home Bargains, stock is variable in these types of retailers. It's worth bearing that in mind when you read our list. We can't guarantee the very same items in your local, but it's worth being vigilant.
Here's what we have found:
B&M
Frozen Watches for only £2.99, these are digital and comes with interchangeable heads.
Frozen Towel only £5.99. These are made of 100% cotton and come in various designs.
Frozen 2 Wheel Scooter, just £16.99. Perfect for those active Anna & Elsa fans.
Frozen Ice Skating Anna & Elsa Dolls, only £23.19. These are tipped to be in the Top 10 Christmas gifts of 2014.
Click here to find your nearest B&M store.
The Range
Frozen Loom Band Case, Was £9.99 now only £4.99, for those that are still into both Loom Bands & Frozen. The two biggest crazes of the year!
Disney's Frozen Canvas, £14.99. By far the best one I have seen in stores. Absolutely ideal for bedrooms. It measures 60x80cm.
Disney's Frozen Scribbler, just £4.99. A very affordable present for a Frozen fan. It's along the lines of Etch a Sketch, and would keep little ones occupied for a while.
Click here to find your nearest The Range store.
Poundland
Frozen Advent Calendars, surprisingly £1. Grab one now as these will sell out.
Disney's Frozen 3 metre roll of Wrapping Paper, £1. Stock up on it now, to wrap those Christmas gifts in!
Frozen Anna & Elsa Bracelets, Necklaces & Hairclips, £1 per item. These are plastic and not suitable for under threes. Fine for dress up and imaginative play.
Click here to find your nearest Poundland store.
Primark
Anna & Elsa T-Shirts, From £4, designs vary. As do Primark's availability of stock!
Boy's (Hurrah!) Olaf & Sven T-Shirt, Just £4. Dark coloured short sleeved top with a motif of Sven and Olaf, careful ironing this, you don't want it to melt! See what I did there?
Click here to find your nearest Primark (as if you didn't already know!)
Thanks to sigma, emmaj85, karene28, clare_g, lamartin & brunette 23 @ HUKD