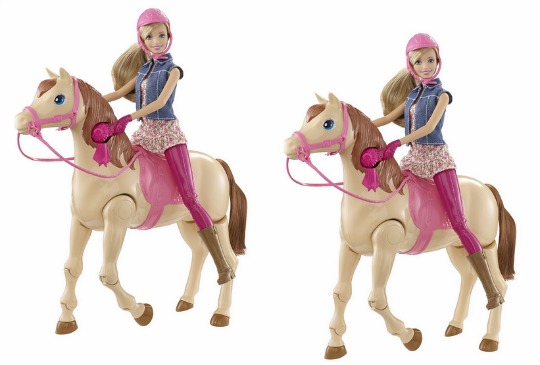 EDIT 07/11/15 - price dropped to £32.69 today!
The new Barbie Saddle-n-Ride Horse features on loads of the stores Top Toys lists for Christmas 2015, so we are keeping a very close eye out for any offers. The RRP is £49.99 and today Amazon have dropped the price to the lowest we have seen it so far, at £37.49 with free delivery.
If you haven't seen the adverts for this toy then what's different about this toy is that Barbie actually gets up into the horse's saddle herself and rides off! You just clip Barbie's glove into the horse's mane and she swings up onto the saddle, then press a button to release he hand and off she goes.
Little ones who love Barbie, ponies, or both are going to love this toy, and it's not hard to see why it's so popular. After last year's fiasco with stocks of the Snow Slow Elsa we are wondering which toy is going to be the one that is hard to get near Christmas, and most bets are on this one.
There's no delivery charge to pay as free super saver delivery is included in the price. You can check out the rest of the Top Toys for Christmas 2015 here.