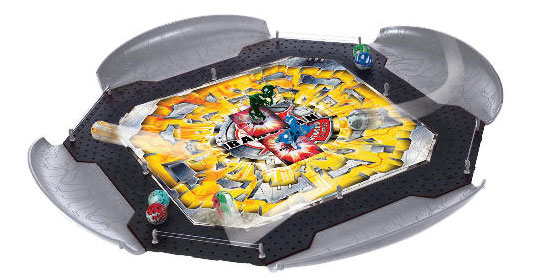 ATTENTION all Bakugan fans and relatives/friends/acquaintances thereof! Tesco are selling this Bakugan Arena for £10 rather than £29.99 - this has to be my deal of the day!
Bakugans are weird things - they're a bit like Top Trumps but with the funny Bakugan ball alien things (or whatever they are) to go with the cards - and my youngest son has more than a fair few of them.
He doesn't, however, have a Bakugan Arena for them and would rather like one; it's his birthday in a couple of months so I'm having to write this post in 'stealth mode' - I tell you, that child has eyes like a hawk!
So the Bakugan Arena is a place to hole epic Bakugan battles and has space for four players and their Bakugan cards.  You'll need to build it before you can battle but, according to the official blurb, it's easy to put together.
The recommended age range is five years and above - which sounds about right to me - and you can either collect your Bakugan Arena for free from your local Tesco, or you can pay their (hefty in my opinion) £5 home delivery charge and have it sent to your home.
Thanks to wishihadadonkey at HUKD