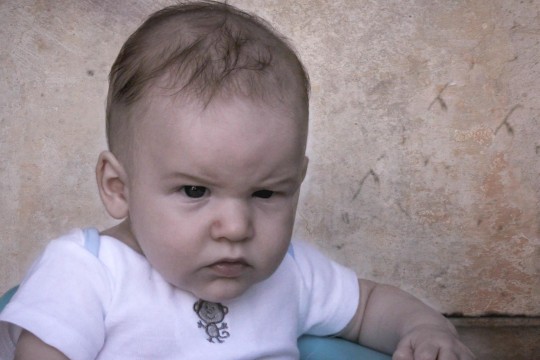 Here's a question for those of you who are expecting a baby in 2015 - or indeed during what's left of 2014. Would it bother you if a close friend or family member gave their child the same name as one of your children? And if so, would it be better or worse if they did so before you'd even had the chance to announce your baby's name?
What prompted me to wonder this is the 'news' that Harper - the name of David and Victoria Beckham's little girl - is top of the list of the highest-climbing names for girls for 2014.
The Daily Mail reports:
Amelia, Olivia and Emily remain the top three names for girls, holding the same positions as last year.

Jack still tops the list for boys, holding off stiff competition from Oliver and Charlie, which climbed one place to third. 

The trends emerged from Bounty Parenting Club's annual report of names handed out to 370,000 babies who were born in the UK this year.
I've known a fair few expectant mums who were most disgruntled when a pregnant friend 'stole' the name they had in mind for their own baby - sometimes in a weird coincidence but sometimes on purpose. The consensus among those I've chatted to seems to be that the crime is even worse if someone 'uses' your baby's name whilst knowing full well it's a name you had in mind for your own baby. And should they do so without discussing it with you first or asking whether you mind, well that's practically an unforgivable step in most friendships, apparently.
Personally I've never really understand the fuss when it comes to friends or family members 'stealing' names - a name is not a possession after all, so it makes no sense to me that anyone would presume to have a sense of ownership over something like a name.
But then again all three of my children have distinctive, unusual names, so 'name-stealing' is not really a problem I've had to deal with. It would be pretty weird if anyone close to me named their child the same thing that I have named my kids, mainly because their names are so unusual, so I just can't imagine anyone doing so without bringing up the issue first. And I can't imagine denying anyone permission to name their child after one of mine - I'd be more inclined to feel flattered that they must like my taste in names, or even think my child makes a pretty worthy namesake.
But having said all that, I was surprised by my own reaction earlier this year when I heard about a a friend of a friend whose baby daughter had been born about nine months after my little girl, and who had been given the very same name.
It's not so much that I felt they had 'stolen' our name, but we live in a small town where people mainly tend to choose traditional names, so I had always envisaged my daughter being the only one in her class to have her name. I can live with there being more than one child by her name in our town, but in her class would be pretty weird.
When I was at primary school there were several Sarahs and Elizabeths in my class, and consequently I didn't want my children growing up being known as 'the two Sarahs' or constantly feeling like their identity was partly shaped by the fact that they weren't the only one with their name in their class.
What really surprised me was how bothered I felt when other people got wind of the fact that a friend-of-a-friend had given their baby the same name as my daughter. Friends drew attention to the issue, and I don't mind admitting that I felt a bit awkward about it.
I've over it now - it doesn't matter how many children there are in my child's class with the same name as her because she'll always be unique and special in our eyes.
But how would you feel? And has it ever happened to you? And if so, did your hold your tongue or make your feelings felt?