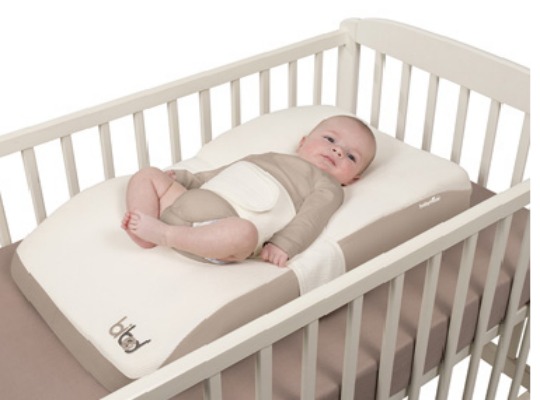 I really don't know if the Babymoov Bibed is one of those baby items that are just not essential. They are certainly not cheap but if you are genuinely worried about flat head syndrome then getting one may put your mind at ease. Normally, you can expect to pay around the £100 mark but Jojo Maman Bebe have reduced the Babymoov Bibed to just £66, with FREE delivered included. Boots.com are selling this for £99.99 and House of Fraser are for £79.99, so it's a bargain at £66. Providing you need one of course.
The Babymoov Bibed is described as being a "first mattress" and apparently helps babies that suffer from reflux, and as mentioned above reduces the possibility of flat head syndrome. They also reckon it reduces crying but I think that's perhaps an exaggeration.
It is suitable from birth and can be used in a crib, cot or cot bed. Baby lies on the baby-safe foam and is secured in with a tummy strap, that's supposed to make baby feel like he or she is being held. They come with a soft fitted sheet so not to irritate baby's soft skin.
Have you used one before? Let us know if they do in fact lessen crying or improve reflux.