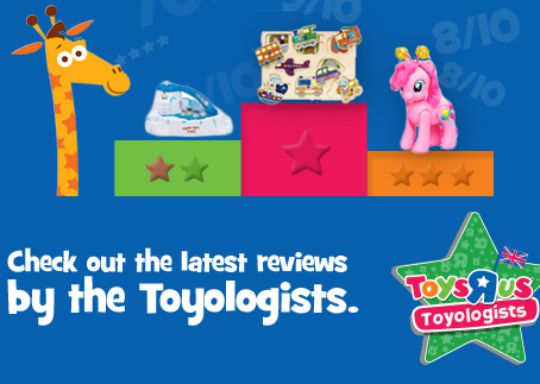 Fancy reviewing the newest toys or baby products? Toys R Us are recruiting Babyologists and Toyologists just now! That's their very own name for a baby product or toy reviewer. That means you'll get FREEBIES in return for honest opinions. These big stores know that not every item is going to be 5 star quality, but by using run-of-the-mill, normal families to test them, they can try to keep what's good on the shelves.
Here's what Toys R Us have to say about the Toyologist Openings:
The Toyologist programme is the home of toy reviews and baby product reviews from the testing teams at Toys R Us & Babies R Us. At Toys R Us & Babies R Us we understand the importance of feedback and reviews from other families and we hope that these reviews are both entertaining and useful!

Our Toyologists & Babyologists are parenting bloggers or members of our online communities. We're constantly looking for new families to join the team and review toys and baby products which are relevant to your own family, so if you think you have what it takes and fancy sharing your feedback with the world.
I would imagine it's quite fun receiving 'surprises' through the door to test and then having the opportunity to tell the online community all about your experience of using the item.
The Babyologist posts are aimed at pre-birth to 24 month old and for the Toyologist 2 to 4 years old. You get to choose on the form. The form itself is straight forward, and requires basic contact details, along with the name and age of your children.
Fingers crossed some of you PlayPennies readers get picked. Let us know if you do!