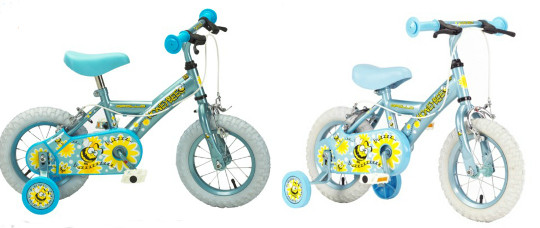 Halfords have reduced the price of the Apollo Honeybee Girls Bike from £49.99 to £34.99. Add the code below, and you can take another 10% off, bringing you to £31.49. Pop over to your nearest Halfords, and pick up your reserved bike to make a little girl's day.
Buzz around like a honeybee on a bike
Discount: 10%
Valid for: All Apollo Bikes
Expires: 30 September 2012
Code: AFFAP06
I know buying a bicycle and getting out and about on it somehow seems more like the kind of thing you do at the start of summer, but there is still time, and some die-hards love the wind in their hair all through the winter. Anyway, with most kids, they'll spend hours on their bikes anyway, so your cost per hour is pretty good on the Honeybee Girls Bike.
This bike is suitable for 3 - 5 year olds and has removable stabilisers for learning to ride. It has a fun Honeybee design on the frame and chainguard.
It has a 12" wheel, calliper brakes, and the chainguard protects clothing and fingers. It's built to meet the tough European Cycle Safety Standards, and there's a range of matching safety accessories.
Thanks to hamzasmummy at HUKD