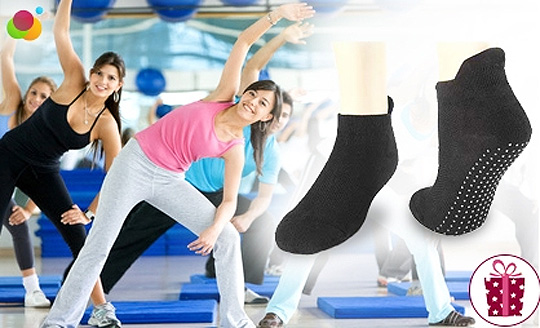 Lync Me Up are selling these genius anti-slip yoga socks for £6 a pair instead of £15 a pair.
If you've ever done any sort of exercise on a slippery surface, you'll know how irritating it is to have to keep readjusting your feet, or being worried that your feet might slip at any time.
The socks come in small-medium and  medium-large sizes and you can also choose to have two pairs for £9.  Of course, you don't have to be sporty to be in need of non-slip socks - if your home has wooden floors you'll also know how perilous it can be wearing just socks (my my mum would tell you to put some slippers on!); the same goes for the tiled kitchen floors (and the same again, with my mum nagging about slippers).
If you like your socks white (whoever thought white socks was a good idea clearly  never thought about trying to KEEP them white!) then you're out of luck, as these anti-slip socks only come in black.
Postage will cost you an additional £3.99 and this deal expires at 11.59pm Friday night.
Happy doing things in socks without slipping over!