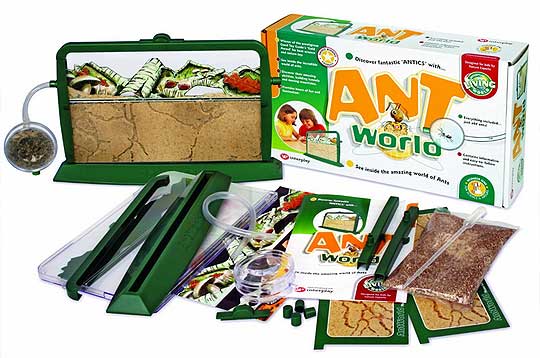 Amazon are selling this Ant World ant farm for £8.76 instead of £12.99.
I find myself torn apart by conflict as I write about this Ant World ant farm! I find ants, their work ethic and their social dynamic, absolutely fascinating; I've sat, enthralled, through countless David Attenborough documentaries featuring the hard-working and intrepid little bugs.
However, should they have the audacity to invade my home then it's WAR, and I gain great satisfaction in eradicating them with my trusty can of DOOM!
So you see, I'm not sure if I could watch my 'pet ants', safe, contained and merrily going about their business in the ant farm, whilst simultaneously murdering their free-wandering cousins.
For those who don't share my murderous tendancies, this Ant World ant farm will make a great little Christmas pressie for youngsters with an inquisitive mind.  They'll be able to watch their ants at work and see how they communicate with each other; fascinating (as long as they're not interacting on my kitchen worktop!).
The ants aren't included in the Ant World ant farm, you're encouraged to find your own ants and instructions as how best to do this are included.  From an educational point of view, the Ant World ant farm supports the National Curriculum and teacher's notes for Key Stage 1 and 2 Science Life Processes and Living Things are also part of the pack.
Thanks to robhansen91 at HUKD