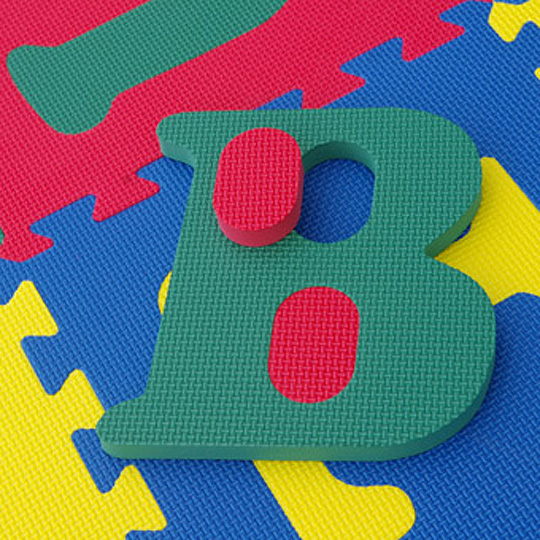 I first saw something similar to these Alphabet Playmats when my eldest niece was little, she's 18 now.  I only noticed them again when I went to the Baby Show in 2006 when I was pregant with my youngest - I don't remember how much they cost but it would have been enough to make me NOT buy them, because I didn't - Tesco are selling them online for £4.98 at the moment, I'd buy a set for £4.98.
I love simple toys like this that also provide the opportunity for some conscious and subconscious learning as well.  The Alphabet Playmats aren't tricky or complicated, the don't make any sounds, they don't have any flashing lights, they don't play any melodies or well known catchphrases from any of the favourite kid's TV shows and they don't require any batteries.
They are just large foam pieces that are shaped and fit together like a jigsaw puzzle, with each piece featuring a letter of the alphabet.  Each letter can be released from its shape which allows for extra pattern recognition and problem solving skills to be further developed.
It makes fiscal sense to collect your Alphabet Playmats in-store for free, but if you really can't then home delivery is going to cost you an additional £3.
Thanks to wishihadadonkey at HUKD