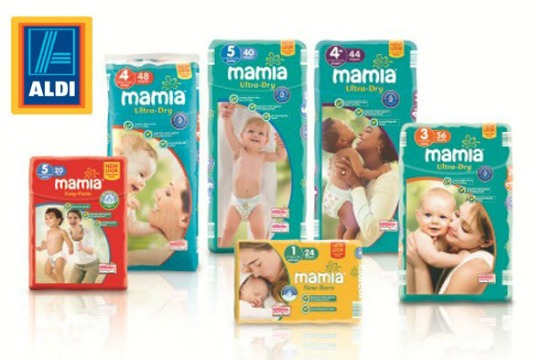 The Aldi Baby & Toddler Event Starts on the 24th April.
The Aldi Baby & Toddler event kicks off tomorrow and there is already a good indication of what will be included in the "Special Buys" section on their website. The Daily Record/Mirror will have a £5 off £40 spend voucher for Aldi in tomorrows paper too, well worth picking up if you're planning to spend over £40.
It includes nappies, bedding , baby and toddler accessories, storage solutions and a whole load more. Some items that caught my eye were the Hauck Baby Bouncer at £14.99, Tommee Tippee Microwave Steriliser at £7.99, Hauck Travel Cot at £19.99 and a rather funky looking highchair at £18.99.
If it's nappies you're after, these will be £7.29 for 98 Size 3 and 84 Size 4. Baby bodysuits will be £2.79 for a pack of three, with sleepsuits being £3.99. They'll also have a good selection of baby toys and I'm a huge fan of the Disney musical soft toys at £7.99 each.
Baby events seem to come around often from the supermarkets but they do tend to happen around the same time, so I'm going to stock up at the Aldi event and hope it lasts to the next round!