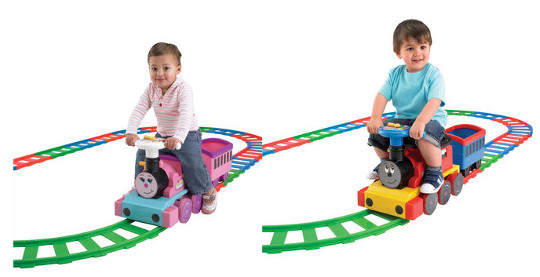 Oh, this is totally gratuitous and I can't for a moment imagine why a child needs a toy as expensive or space intensive as a 6V Train and Track Set, but I want it anyway! I can just imagine my girls going round and round on their train tracks! And at £159.99 I wouldn't even consider it, but at £79.99, while I still think it's totally over the top, it's way more tempting! Who wouldn't like a half price train anyway?
This train set comes with a 22 piece track, which you can build to ride your train on. The train has a 6V engine, which makes real engine sounds and has a horn. It also comes with a carriage for your little one to store toys or transport cargo. It has an easy to use hand operated forward and reverse movement, and conforms to BS EN 71.
The train only works when it's on the tracks, and it's only suitable for indoor use. That said, I had to laugh at the warning notice: apparently this vehicle is not to be used on public highways. It frightens me that they even have to say that!
Thanks to chesterdraws at HUKD