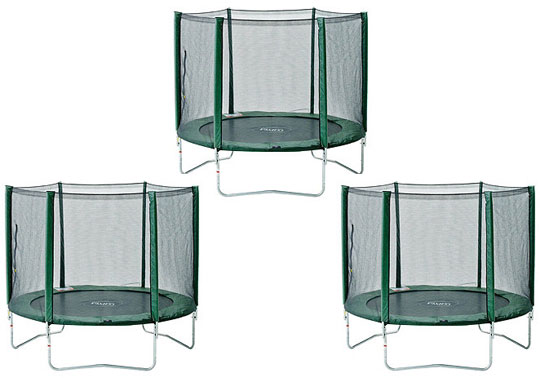 If you bounce over to Tesco then you can pick up one of these 8ft trampolines, complete with enclosure, for £69.88.
The published price on the website is £79.88, but use this code at the checkout - TDX-YWXF - and the price will come down by a tenner.
Did you ever do trampolining as a kid at school?  It's surprisingly physical just bouncing around so it's great exercise and above all else, it's FUN!
My children ADORED their trampoline – at almost 17 and 16 bouncing around on a trampoline isn't very cool anymore - it got them out of the house and into the fresh air.
Everything you need to put the trampoline together is included in the box and all the steel tubes are made of galvanised steel to prevent any rust or deterioration of the frame, so it's going to last for a very long time - our stayed out in all weathers, sometimes covered, sometimes not and looked as good as new right up until the day we sold it.
You can arrange to collect your trampoline and enclosure for free in-store OR you can pay to have it delivered - I know the Tesco site says that standard delivery is £3 and named delivery day £5, but this is a heavy item so it's most likely going to cost you around £9.95 (that's what delivery cost have been for previous trampolines sold by Tesco anyway).
Thanks to JoeBoy88 at HUKD